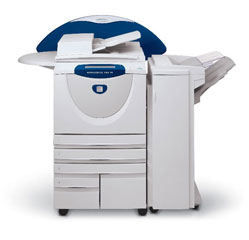 Copying a folder of 1000 pages will take only 22 minutes.
You will get the copy of your archive folder in the exactly same look.
Think of the electronic archive of your documents.
Printing material
Xerox Business
This paper has the optimal parameters of stiffness, moisture, smoothness of edges.
Stable quality parameters of this paper allow using it extensively for double-sided copying.
Xerox Business is a recognized standard of office paper quality.
Equipment.
Xerox Workcentre Pro 45 and Xerox Workcentre Pro 232 are the multifunction network devices with the functions of black and white printing, copying and scanning.